Every year more than 1.7 million Americans develop sepsis—a life-threatening medical condition that happens when the body overreacts to an infection from a bacteria, virus, parasite or fungus, triggering a cascade of overwhelming inflammation and blood thickening within blood vessel linings. When this happens, small blood clots form—first at the site of infection and then throughout the body. Widespread inflammation and blood clots can block oxygen and nutrient delivery to the body.
Anyone can get sepsis, but two-thirds of all cases occur in people over the age of 60. An infection may develop in an organ like the lungs from pneumonia, or through a cut or incision. It can also start when an invasive medical device like a urinary catheter or feeding tube is used. Older adults are at higher risk of sepsis due to weakened immunity, more frequent surgeries, skin ulcerations, and chronic diseases such as diabetes, heart disease, cancer, autoimmune disorders, and malnutrition.
In addition to the symptoms of infection, common symptoms of sepsis include fever, rapid heart rate, and rapid breathing. When an older person is septic, fever may not happen. In fact, they may have the opposite–cold, clammy skin temperature–or hypothermia. Older patients are also more likely to experience sudden mental confusion or delirium along with malaise, fatigue, weakness, sudden shortness of breath, poor appetite, chills, dizziness, and low blood pressure.
If any of these symptoms occur—immediate medical care is critical. Not all infections develop into sepsis; however, progression from infection to full-blown sepsis can occur in hours. For every hour delay in appropriate treatment, the risk of death increases by up to 8%.
It's important to prevent infection with vaccines, good hand-washing and personal hygiene, and proper wound care. Those that develop sepsis will likely be treated with antibiotics, IV (intravenous) fluids, and vasopressors to increase blood pressure. Treatment may also involve other medications, surgery to remove the infection, and more.
Videos on Sepsis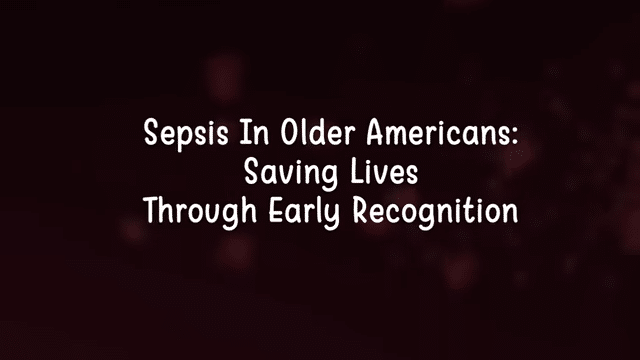 Every year more than 1.7 million Americans develop sepsis—a life-threatening medical condition that arises when the body…
more
.
Living Longer and Loving It
Sign up for our monthly e-mail newsletter for the latest information on
scientific research on aging and health.
Ways to Give
There are many ways you can help accelerate the pace of scientific discoveries and their application to vastly improve the universal human experience of aging and health:
The Alliance for Aging Research is a proud recipient of Candid's Platinum Seal of Transparency. The Alliance for Aging Research is proud to be rated a 4-star charity by Charity Navigator.