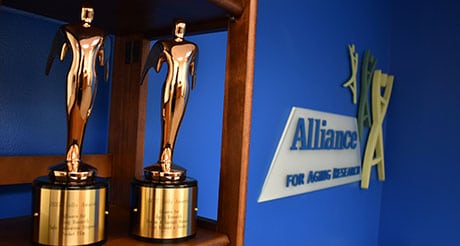 The Alliance is thrilled to announce that its pocket film Safe Medication Disposal has received 2017 Telly and Webby Awards. The Alliance also received a 2017 Telly Award for its short film that tells the story of AFib-stroke survivor Sharon Munson and her husband, Randall.
The Telly Awards honors "the best in TV and Cable, Digital and Streaming, and Non-Broadcast Productions" This marks the third straight year that the Alliance has received a Telly Award for its videos. Past winners have included The Healthspan Imperative in 2015 and Aortic Stenosis in Seniors Explained in 2016.
The Webby Awards is "the leading international award honoring excellence on the internet."
Safe Medication Disposal addresses an important aspect of medication safety: how to safely dispose of unwanted medications. You can watch it below.
The Sharon Munson story was part of the Alliance's Year without a Stroke campaign; this video offers a moving look into how devastating an AFib-related stroke can be, and how important critical it is to properly treat and prevent strokes. You can watch the video below.