Alliance Report: Medicare Using 'Coverage with Evidence Development' to Ration Patient Access to FDA-Approved Treatments
Published February 13, 2023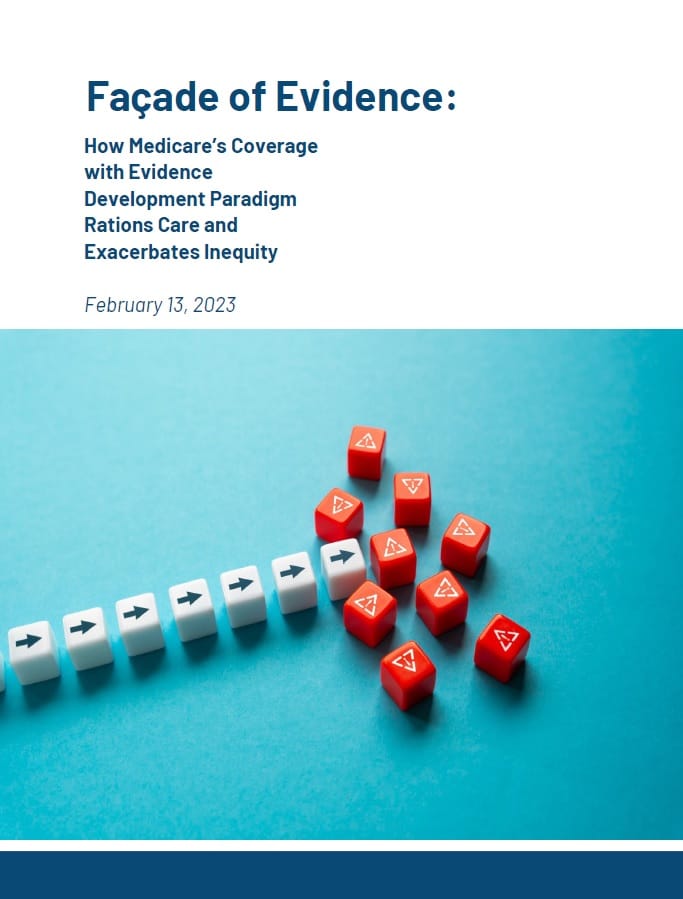 WASHINGTON, DC (February 13, 2023) — The Centers for Medicare and Medicaid Services (CMS) are increasingly employing an extralegal paradigm in the Medicare program called "coverage with evidence development" (CED) to restrict access to drugs, biologics, diagnostics, and medical devices approved by the FDA, according to a report released today by the Alliance for Aging Research. The report is being released on the first of a two-day meeting of the Medicare Evidence Development and Coverage Advisory Committee (MEDCAC), a federal advisory committee to CMS. The MEDCAC will be voting on updates to CED clinical study design and reporting requirements. (View the agenda or register here.)
The Alliance for Aging Research's report—Façade of Evidence: How Medicare's Coverage with Evidence Development Paradigm Rations Care and Exacerbates Inequity–provides an overview of CED; its deficiencies and harmful consequences; and how CMS' recent application of CED and efforts to reinforce it set a dangerous precedent for future Medicare coverage. (An executive summary is available here.)
"CMS is not a science agency; it is a payer. The Agency's interest in CED may have started with the intent to collect evidence, but in effect has become a utilization management tool to ration the flow of FDA-approved medical products and services," said Sue Peschin, president and CEO of the Alliance for Aging Research and a co-author of the report, and gave public comment during the MEDCAC meeting. "Medicare gets a lower bill on the backs of millions of beneficiaries, who are either denied care or must consent to participating in a clinical study in order to have it covered."
CMS implemented CED in 2005, misusing its national coverage determination (NCD) authority, creating an option for Medicare to add a clinical study participation requirement, which was not authorized by Congress. Under a CED, Medicare denies coverage for an FDA-approved item or service except through a population-limited clinical study, such as a CMS-approved clinical trial or data registry. Medicare beneficiaries who are ineligible under the strict CED requirements, or who cannot access the clinical study sites, are denied coverage.
Between 2005 and 2022, CMS issued a total of 27 CEDs for everything from cochlear implants to off-label use of chemotherapeutic agents for colorectal cancer and monoclonal antibodies for Alzheimer's disease. In that time, the agency retired just four of them.
Initially, CED was utilized to accelerate access to FDA-approved medical devices, which have comparatively fewer clinical trial requirements in comparison to drugs and biologics. As time as passed, CMS has expanded its use of CED to other therapeutic types and diagnostics.
However, operationally, once the agency initially places a type of therapeutics in CED, it has been extraordinarily difficult for the coverage restriction to be lifted. Often, conditions of coverage requirements prohibit access to participation for beneficiaries in rural communities and communities of color. In some cases, the Agency has exploited inequitable participation as justification to continue a CED determination.
Peschin states, "Medicare beneficiaries in rural communities and communities of color are more likely to be denied access under CED because the conditions of coverage primarily direct care to urban medical centers in wealthier areas. There are strong signs that CMS intends to apply CED to gene and immunotherapy drugs, strengthen CED study requirements to tighten its hold on access, and encourage Congress codify its authority. These issues should concern all of us."
CMS has indicated its intent to deploy additional NCDs requiring CED by commissioning a report from the Agency for Healthcare Research and Quality (AHRQ) that analyzes and provides recommendations on updating CED study design requirements. On February 13-14, the MEDCAC is slated to review AHRQ's report and make recommendations to CMS on updates to the CED study design requirements. Other potential expansions of CED by CMS include a proposed rule that conditions coverage of technologies (and potentially including drugs) on the collection of additional evidence in CMS-approved studies; and recommendations from the Medicaid and CHIP Access Commission (MACPAC) for Congress to grant states outright authority to limit Medicaid formularies based upon Medicare NCD determinations.
###
To interview someone from the Alliance for Aging Research or one of our partner organizations on this topic, email Katie Riley, Vice President of Communications, at [email protected].