Press Kit for The Silver Book®: Diabetic Retinopathy
Published May 18, 2016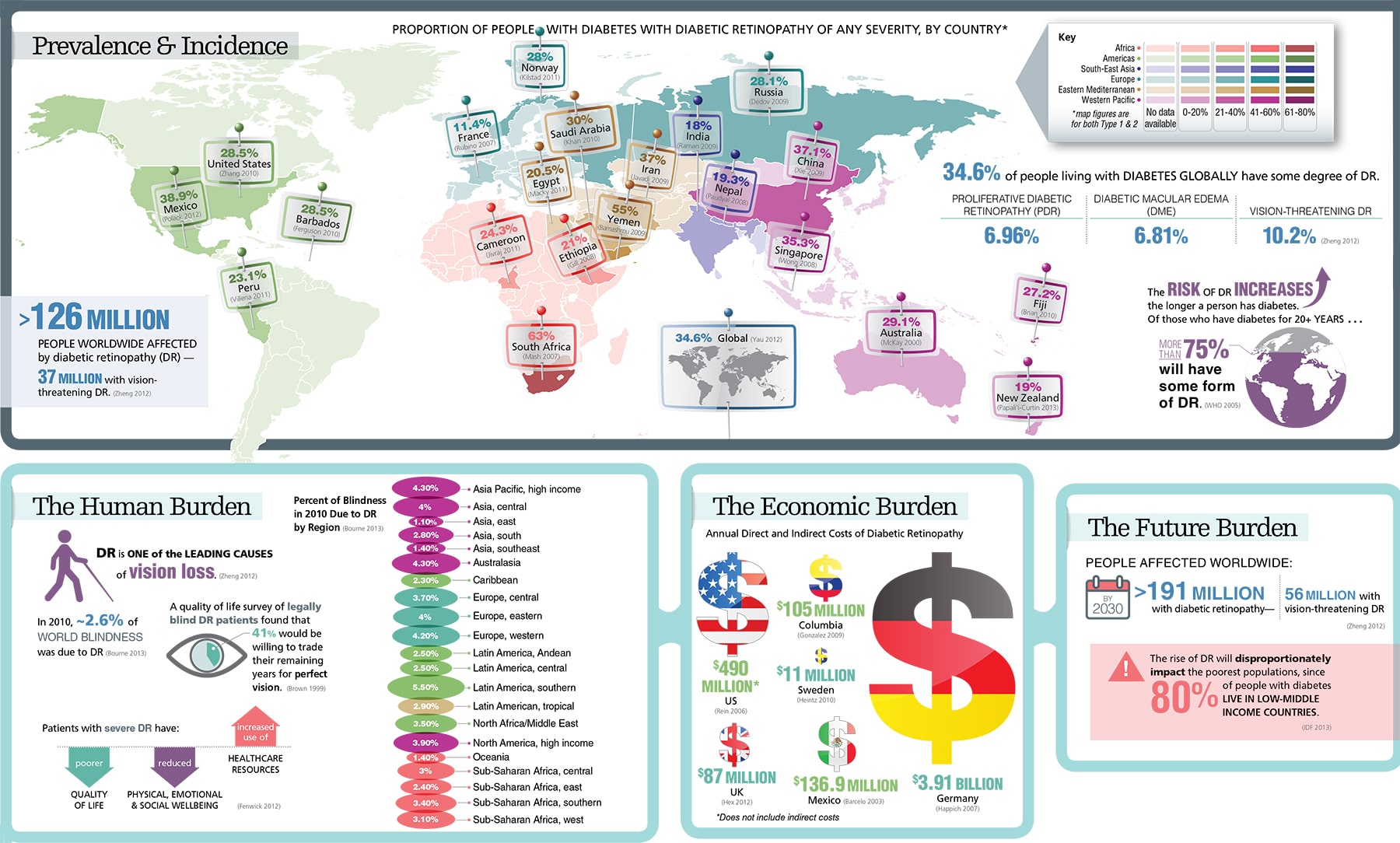 May 18th, 2016 – Welcome to the press kit for the new factsheet: The Silver Book®: Diabetic Retinopathy. To see the press release, please go here.
What Is Diabetic Retinopathy?
Diabetic retinopathy (DR) is a serious, irreversible eye disease that can occur in people with diabetes and is a leading cause of blindness around the world. There are two stages of DR: non-proliferative diabetic retinopathy (NPDR), the early stage, and proliferative diabetic retinopathy (PDR), the late and sight-threatening stage of the disease.
The Issue
Because diabetes is becoming increasingly common in industrialized and even developing countries, DR could impact as many as 191 million people around the globe by 2030. Yet, patients are often unaware of the seriousness of DR and the need for early detection and treatment. As many as 30 percent of high-risk diabetes patients never have a retinal exam, and less than 40 percent of those at high-risk for vision loss receive treatment. And in some countries, access to care can be an issue. Many countries still have only one ophthalmologist per 250,000 to one million people, located mostly in urban areas.
What Can Be Done
Countries and communities can help prevent diabetic retinopathy by adopting culturally, politically, and socioeconomically appropriate policies that promote effective education, screening, detection, and management of DR that are feasible and cost-effective.
The Silver Book®: Diabetic Retinopathy
The Silver Book®: Diabetic Retinopathy illustrates the seriousness of the problem through statistics and infographics focused on the human and economic burden of the disease, how innovation can reduce its risk, and the challenges and opportunities to nations seeking to institute policies for education, screening, detection, and management of DR.
The factsheet is available digitally at the Silver Book® site as well as in print.
The Webcast
The Alliance will launch the factsheet with a webcast on May 19. It will include experts Lydia Makaroff, Ph.D., International Diabetes Federation; Peter Ackland, International Agency for the Prevention of Blindness; Clare Gilbert, FRCOphth, M.D., MSc, London School of Hygiene & Tropical Medicine; and Susan Peschin, MHS, from the Alliance. Topics of discussion include: the burden of the disease and challenges and opportunities in global DR management. The webcast will be available here.
Contact Info
For more information about this campaign and for interviews with experts, please contact Noel Lloyd via email or 202.370.7852.