Project LOOP (Lower Out-of-Pocket Costs in Medicare Part D Now)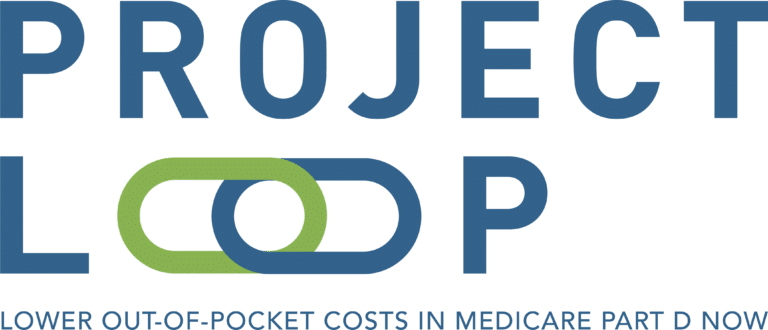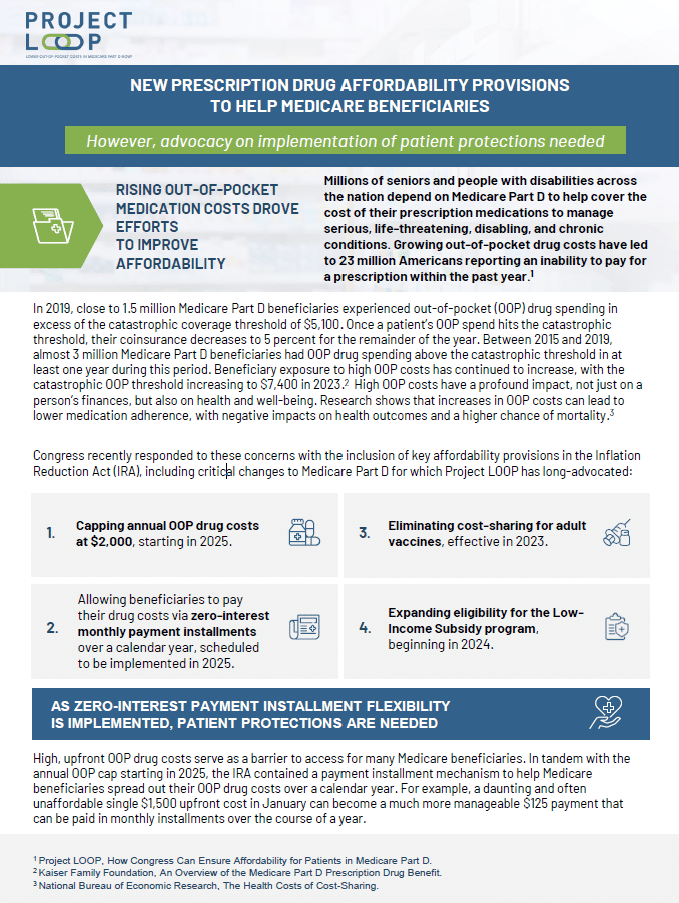 Growing out-of-pocket costs in Medicare Part D are a heavy burden for many older Americans. Currently, there is no limit to what patients must pay in the program and some patients receive bills for a single prescription drug fill in the thousands of dollars. Too often the sickest and most vulnerable patients pay the highest amount for their medicines. Older adults should never have to choose between their health and their basic costs of living.
In 2022, Congress passed two key reforms to better enable Medicare beneficiaries to afford their medications. The provisions are:
1) A $2,000 annual limit on out-of-pocket expenses
2) An option to pay out-of-pocket costs through zero-interest payment installments
These changes will help ensure patients can afford their medications and help financial hardships that may prevent beneficiaries from taking needed medicines.
Project LOOP was proud to champion the passage of these provisions alongside other patient advocacy groups. The coalition is currently working with stakeholders and the Medicare program to ensure that beneficiaries are able to fully benefit after implementation in 2025.
Happening NOW:
INFOGRAPHIC: Additional Advocacy Needed to Ensure Patient Protections Are Included in Implementation of Part D Affordability Reforms
BLOG: Alliance Convenes May 2023 Stakeholder Discussion on Implementation of Medicare Affordability Reforms
On September 9, 2021, an Alliance-led letter from 132 organizations representing older Americans, patients, family caregivers, people with disabilities, diverse communities, and healthcare providers that asked Congress to address unaffordable out-of-pocket (OOP) costs in the Medicare Part D program in the budget reconciliation package. The letter included specific recommendations, including an annual OOP cap of $2,400 or less, a cost smoothing mechanism available to all Part D beneficiaries, and exploration of whether a maximum copay model should be expanded for products beyond insulin. Additionally, the groups ask Congress to reject use of the quality-adjusted live year or similar average metrics in value assessment, as relying on these metrics in pricing would be harmful to the very groups the Medicare program is intended to serve. Learn more here.
A Call for Action
There is currently no limit on Medicare beneficiaries' potential out-of-pocket cost for prescription drugs. This absence exposes older adults to potentially devastating costs that can jeapordize their finances and health. In 2019 alone, 3.8 million Medicare beneficiaries experienced out-of-pocket costs in excess of $5,100. Some Medicare beneficiaries currently qualify for a low-income subsidy to defray some of these catastrophic costs.
Out of pocket costs are not just a financial crisis, but have a detrimental impact on health. Research shows that growth in OOP costs lead to lower drug adherence, higher mortality, and increased overall healthcare costs.
Direct solutions exist to curb patients' health care expenses: we urge Congress to act now to improve affordability for patients by smoothing and capping out-of-pocket costs in Medicare Part D.
Annual cap on beneficiary out-of-pocket expenditures
Creating an out-of-pocket cap would place a maximum on Medicare beneficiaries' annual out-of-pocket spending on prescription drugs. Individuals living on fixed incomes would have certainty that no matter what health concerns arise, they will not be exposed to excessive drug costs. A cap on the total amount patients are required to pay would help beneficiaries get the medicines they need rather than skipping doses, ending treatment or getting turned away at the pharmacy counter.
Cost smoothing mechanism
Even with a cap, patients face initial out-of-pocket costs in the hundreds or thousands of dollars. A smoothing mechanism would allow Medicare beneficiaries to pay costs evenly over the course of a year and avoid a large, single lump-sum expense for necessary medicines.
Add Your Voice
Project LOOP is urging Congress to make these two changes to address high patient drug costs in the Part D program. We need your help to encourage Congress to implement these critical, common sense fixes.
Stay in the LOOP! Sign up for updates and opportunities to ask Congress to fix Medicare Part D.
Previous efforts:
Patient Advocacy Groups Call for Bipartisan Action to Alleviate Older Americans' Undue Medicare Part D Cost Burden
On July 20, 2020, the Alliance for Aging Research and 48 other patient advocacy organizations sent a letter to Congressional leaders – Speaker of the House Nancy Pelosi, Minority Leader Kevin McCarthy, Majority Leader Mitch McConnell, and Minority Leader Chuck Schumer – to address out-of-pocket (OOP) costs in Medicare Part D by placing a cap on beneficiaries' costs and providing the option to smooth costs over the course of a year. The groups also caution that solutions to OOP costs should not be accompanied by proposals such as international reference pricing which relies on methodologies that devalue patients based on their disability, age, or chronic illness and potentially limits access to treatment. Click here to read the letter and here to read the official press release.
Individuals can contact their Congressional Representative and Senators to ask them to address Medicare prescription drug out-of-pocket costs through an annual cap and smoothing mechanism.
Advocacy Groups Send Letter to CMMI on Part D Demonstration
On May 22, 2020, the Alliance for Aging Research and 26 other patient advocacy organizations wrote to the Centers for Medicare and Medicaid Services (CMS) and the Center for Medicare and Medicaid Innovation (CMMI) to show support for a "smoothing demonstration" included in the Innovation Center's Part D Modernization Request for Applications (RFA). Click here to read the letter.
On July 16, 2020, CMMI responded to the letter. In the response, CMMI outlined:
CMMI will announce the Part D sponsors participating in the Part D Modernization model in fall 2020;
CMMI will continue its efforts to support participation in the CY22 Part D Modernization model, mainly through educating Part D sponsors with webinars and discussions;
CMMI offered the opportunity to connect with the cosigners of the letter and other stakeholders as they plan for CY22;
CMMI encouraged the cosigners of the letter to look at the Part D Senior Savings model.
Interested in lending your organization's voice in support of lowering out-of-pocket costs for Medicare beneficiaries? Stay in the LOOP by emailing [email protected].
The Alliance for Aging Research serves as the convener for Project LOOP, an ad hoc coalition effort committed to addressing patients' costs for prescription drugs. AbbVie, Bristol Myers Squibb, Genentech, Gilead Sciences, Eli Lilly, and Sanofi provide support for the Project LOOP coalition.