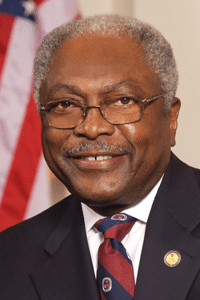 Every year at the Annual Bipartisan Congressional Awards Dinner, the Alliance for Aging Research proudly honors individuals for their contributions to advance the science of human aging. Below, Claude Pepper Foundation Chair Tom Spulak interviews this year's Claude Pepper Award for Advancing Healthy Aging Award Winner, Congressman James E. Clyburn.
Tom Spulak: The Claude Pepper Award for Advancing Healthy Aging is presented each year to a Democratic member of Congress who is leading the way for policies encouraging medical research, innovation, and care to benefit Americans as they grow older. What does receiving this award mean to you?
Congressman Clyburn: Being someone who knew Claude Pepper, and knew of his great work, I guess it's always an honor to receive an award named for someone as legendary as he is–and to have known him makes it even more honorable to me. I would say it's a proud moment to receive this award.
Tom Spulak: This award is named for the Honorable Claude Pepper, who fought tirelessly in both the U.S. Senate and House of Representatives to help those in need, including our nation's older adults. What are some ways you are working to help older adults? What is an example of legislation that you've sponsored that has helped to benefit older Americans?
Congressman Clyburn: I've always been one to consider the aging process as being one of developing wisdom. I don't know that I ever thought that I would be at this particular juncture in the process, having just turned 79 years old, but I think that Claude Pepper demonstrated, in more ways than one, how we should conduct ourselves in this process. He was way up in age when he did some of his best work, and he and his record of service are inspirations to me. So, I would say getting this award underscores the necessity of us doing what we can to make that process as comfortable as it can be. We all know that at some point in time all of us will pass off the scene and make way for the next generation, but we ought to do so in such a way that we can be a benefit and be able to incentivize the next generation as well.
Tom Spulak: As a recipient of the Claude Pepper Award for Advancing Healthy Aging, you join several past recipients of the award who currently serve in Congress, such as Congressman Steny Hoyer, Senator Dick Durbin, Congresswoman Maxine Waters and Senator Ed Markey. How do you feel to be joining your colleagues in being recognized for your commitment to older Americans?
Congressman Clyburn: It's an honor having served in the House of Representatives with all four of those people, though two of them—Markey and Durbin, now in the Senate—were in the House when I first got here. So, I have served with all four of them. The two of them, along with Maxine and Steny, have been great examples and great inspirations to me over the years. It's a very, very great honor to be in their company in this manner.
Tom Spulak: In your opinion, what are the most pressing issues older adults face today that must be resolved?
Congressman Clyburn: I think that making the accessibility and affordability of healthcare is probably the number one issue, in my opinion, for older Americans. Claude Pepper's great work was not just in providing for the here and now, but in making significant preparations for what may come. He did great work on research and funding research, and I think that so much of what is missing today in the government process is this conflict that's developed between those people who deal with the here and now and don't want to have, what I call, the proper association with science. We're not going to solve the problems that we have, no matter where they may be found, if we do not have a healthy respect for science and research. And that to me is what will be a benefit to older Americans and to the aging process itself. I think I benefit today from research. One of the reasons I can still play 18 holes of golf in 100-degree weather at the age of 79 is because of the science and the research that's been done. I know that my blood pressure stays in check, not just because of my diet, but also because sometimes I take a little pill to help it along. These things come with research, and I think that we do ourselves and the future country a great disservice when we ignore the science and not make the investments we need to make in research.
Tom Spulak: What does healthy aging mean to you, and how do you practice healthy aging?
Congressman Clyburn: I tend to eat properly, not always as often as I should. I tend to do all things in moderation. Every now and then, I may have a little more Jack Daniels than I should, but I usually do things in moderation.
Tom Spulak: What are some things any American can do to ensure the well-being of older adults?
Congressman Clyburn: I think all of us should keep in mind one thing. If all goes well and God's good graces shine upon us, we should all hope to live long enough to be called a senior citizen and do well enough to enjoy that status.
Tom Spulak: What's one thing that people might not know about you?
Congressman Clyburn: My life is pretty much an open book. The thing I usually find people are surprised to find out about me is that I'm such a big lover of the arts. People seem to be surprised when I tell them that music was my big thing growing up. My college days were spent on the stage. I'm a big lover of the theatre, and for some reason people look at me and seem to be surprised by that. I suspect that of all the things that may be a part of me that's the one thing people seem to be more surprised to find out. I do love the arts and I'm a great lover of the theatre.
The Alliance for Aging Research will hold the 2019 Annual Bipartisan Congressional Awards Dinner Heroes in Health: An Evening to Celebrate Engagement, Compassion, and Healthy Aging on Tuesday, September 17, 2019 at the United States Institute of Peace. Get more info and buy tickets here.