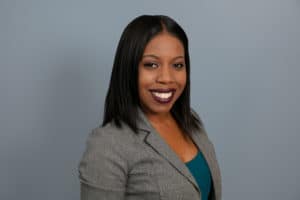 The Alliance for Aging Research is proud to have dedicated staff members supporting the organization in its mission to improve the universal human experience of aging and health. Every month, we'll spotlight one of our staff members here on the blog. This month, we are featuring Tiffany Stewart-Brown, the Alliance's HR and Office Operations Manager.
What do you do at the Alliance for Aging Research?
I serve as the HR and Office Operations Manager at the Alliance. I work closely with the President and CEO and the Vice President of Finance to coordinate and implement various human resources and administrative responsibilities which includes maintaining compliance with federal, state, and local labor laws. I also oversee payroll and benefits administration, assist with monitoring the administrative budget, coordinate team building activities, promote wellness initiatives, and manage the recruitment and onboarding process, as well as personnel file management.
How long have you worked at the Alliance?
I have worked at the Alliance for 1 year and 9 months.
Where are you from, and what brought you to the Washington, DC area?
As an Air Force brat, I was born in Caribou, Maine, raised in Newburgh, New York, but also stationed in several different states such as Maryland, Texas, Connecticut, and North Carolina. Of all the states we lived in, my mother ended up loving Maryland and brought me and my siblings back to attend high school and to permanently reside. I too, grew to love Maryland and after serving in the Army for 8 years, decided to plant my roots and raise my family here in the DC area.
What is your favorite project or topic you've worked on while at the Alliance?
Serving as the HR and Office Operations Manager, I do not work on the wonderful, specific mission-driven projects as most of the other departments do as I am handling a variety of HR, office management, and administrative responsibilities for the Alliance. However, I do like working on the health and wellness aspect, as well as the team building activities, for our organization. Much of an employee's time is spent at work, so it is a very important benefit that can bring awareness, improve employee's health, increase productivity, boost morale, and hopefully retain great talent.
Do you have a personal connection with any of the health issues/conditions the Alliance works on?
Although his stroke may not have been related to AFib, my maternal grandfather suffered a stroke a few years ago and lost most of his memory, and experienced a few more cognitive and emotional changes and side effects. He refers to everyone in our family as "that girl or that boy." Luckily, he still has his physical abilities and it has not caused paralysis or other life-threatening conditions. I love that the Alliance advocates and works on so many different health issues to bring more awareness to the aging population.
What is something you've learned about healthy aging since working at the Alliance that has either changed your view or impacted the way you personally approach aging?
Natural aging is going to happen to every one of us, so it's good to see a greater value placed on health and wellness lifestyles and eating habits today that my younger self may have taken for granted. Aging can be a challenge for some or can be a breeze for others. Since I am not able to predict how my body will respond as I age or to any given illness, I have learned that I need to be more disciplined with preventative measures or lifestyle changes in the hopes of making the aging process less problematic, such as practicing self care (me time), exercising regularly, eating healthy, drinking more water, and visiting the doctor regularly, just to name a few. It's important to focus on the simple things that we can easily overlook as our lives become busier and more overwhelming over the years.
What is your favorite book?
I love romance novels. One of my favorites is "Waiting To Exhale" by Terry McMillian, which later inspired a movie production.
What is one thing that not many people know about you?
I was a sharpshooter in the Army, not quite an expert, but close enough.