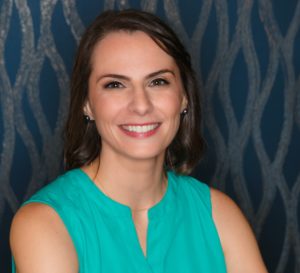 The Alliance for Aging Research is proud to have dedicated staff members supporting the organization in its mission to improve the universal human experience of aging and health. Every month, we'll spotlight one of our staff members here on the blog. This month, we are featuring Lauren Smith, the Alliance's Vice President of Communications.
What do you do at the Alliance for Aging Research?
In my role as the Vice President of Communications, I oversee the Alliance's strategic communications and marketing efforts, including media and public relations, brand management, digital and social communications, and marketing of our various programs and projects.
How long have you worked at the Alliance?
I joined the Alliance team in mid-2018.
Where are you from, and what brought you to the Washington, DC area?
I am a proud native Washingtonian. I have lived in the DC area my entire life aside from four years living in New York City for college.
What is your favorite project or topic you've worked on while at the Alliance?
I find all of our projects very interesting and rewarding, so this is a tough question. I like learning about the various conditions and policy issues we work on. But since I have to pick just one, I'll say that my favorite project so far has been Heart Valve Disease Awareness Day. Not only is the awareness campaign meaningful and impactful, it is also creative and challenging. It was exciting to work with the U.S. Surgeon General and WebMD for the 2019 Heart Valve Disease Awareness Day and see how passionate our partners across the nation were about raising awareness of heart valve disease. But more than anything, I like connecting with people who are directly impacted by heart valve disease and seeing first-hand how the Alliance's work is making a difference in their lives.
Do you have a personal connection with any of the health issues/conditions the Alliance works on?
I have a family history of heart disease and diabetes, but many of the issues we work on at the Alliance have impacted my friends and family in one way or another, so I feel personally invested in each project and topic.
What is something you've learned about healthy aging since working at the Alliance that has either changed your view or impacted the way you personally approach aging?
I've learned so much! One fact that has stayed with me is just how under-recognized and under-diagnosed sarcopenia is. Sarcopenia, the progressive loss of skeletal muscle that comes with aging, is often dismissed as just a "normal" side effect of getting older, but the impact on the quality of life doesn't receive enough attention (thankfully, the Alliance's Aging in Motion coalition is working to combat that). I've been told to lift weights to keep muscles toned for aesthetic reasons but working at the Alliance has taught me the importance of resistance training to help prevent sarcopenia (and therefore, hopefully prevent falls and frail bones). I'd like to believe I work out more because of this information!
What is your favorite book?
I love to read so this is another hard question. It's easier to pick a genre than just one book. I find I tend to get lost in historical fiction. I'm also a big fan of management and business theories, so you can often find me reading the latest Harvard Business Review (HBR) or listening to the latest HBR Women at Work podcast.
What is one thing that not many people know about you?
Most people don't know I played competitive soccer in Norway and Sweden when I was in high school. I'm twenty-ish years out of practice now, which is perhaps why I don't actively share that info!