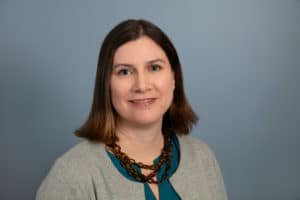 The Alliance for Aging Research is proud to have dedicated staff members supporting the organization in its mission to improve the universal human experience of aging and health. This month, we are featuring Lindsay Clarke, the Alliance's Vice President of Health Education and Advocacy.
What do you do at the Alliance?
As Vice President of Health Education and Advocacy at the Alliance, I oversee our initiatives and campaigns that focus on educating and empowering consumers, patients, caregivers, and healthcare professionals on diseases and conditions that disproportionately impact older Americans. I also work closely with the Alliance's public policy team on issues of access, research, and awareness.
How long have you worked at the Alliance?
I joined the Alliance more than 14 years ago after interning in the Alliance's offices for the Coalition for the Advancement of Medical Research (CAMR), which was comprised of more than 100 patient organizations, scientific societies, and foundations advocating for and educating about stem cell research and other related technologies. CAMR was chaired at the time by the Alliance's founder and former president, Daniel Perry.
Where are you from, and what brought you to the Washington, DC area?
I grew up in the Detroit suburbs and moved to the DC area after attending law school in Chicago. My husband and I moved out here to find jobs in the government and nonprofit sectors.
What is your favorite project or topic you've worked on while at the Alliance?
I love creating our educational films. These are short (3 to 5 minute) animated films that take dense, confusing, and often intimidating medical information and make it easy to understand. They have proven very effective at educating a wide variety of audiences about topics such as stroke risk from atrial fibrillation, safe use of over-the-counter pain medication, heart healthy nutrition, age-related macular degeneration, sepsis, and a dozen more important topics in aging.
I am also particularly proud of our efforts to lead the Heart Valve Disease Awareness Day Campaign. We are about to recognize the Fourth Annual Heart Valve Disease Awareness Day on February 22 and are joined by almost 75 partners, including nonprofits, advocacy groups, professional societies, heart and vascular institutes, and more. We are able to join together throughout American Heart Month in February and on February 22 to raise awareness and reach hundreds of millions of people. Our partners are so dedicated to making sure more people know about the seriousness of valve disease, its risk factors and symptoms, and the importance of Listening to Your Heart. They host dozens of events including health fairs, heart screenings, educational symposiums, webcasts, online events, and so much more. I am so grateful for their partnership and for the chance to be a part of something that is making such a tremendous impact.
Do you have a personal connection with any of the health issues/conditions the Alliance works on?
As we age, we all have people in our lives who are impacted by diseases of aging. I receive far too many texts and calls from loved ones and friends who are facing a new diagnosis and wondering what to do and who to turn to for support.
What is something you've learned about healthy aging since working at the Alliance that has either changed your view or impacted the way you personally approach aging?
Working at the Alliance has taught me what a difference it makes when you are facing a diagnosis and the importance of knowing who to turn to and the right questions to ask. Getting information and talking to others who have faced what you are facing is empowering and helps guide you during scary and overwhelming times. I am grateful for the times I've been able to help friends and loved ones, and hope that I'm doing the same for patients and caregivers across the country through the educational resources we produce.
What is your favorite book?
I will honestly read anything and churn through a pile of books that is constantly growing from book sales, loans from friends, and my favorite Little Free Library®. I love historical fiction and a good thriller, but lately I've also been enjoying reading young adult novels with my 10-year-old daughter. They are usually less traumatic and heart-wrenching than the books I typically read, and it's fun to talk through these books and see them through my daughter's eyes.
What is one thing that not many people know about you?
Since I ended up getting my law degree, most people are surprised to learn that I was pre-med in undergrad. Between undergrad and law school, I worked in a radiation oncology lab and did research on the effects of radiation on otherwise healthy tissue. My work at the Alliance has allowed me to pursue both my interest in medicine and the law, since health policy and advocacy often have a foot in both worlds.