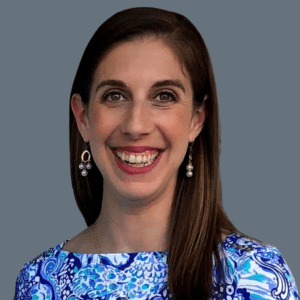 The Alliance for Aging Research is proud to have dedicated staff members supporting the organization in its mission to improve the universal human experience of aging and health. This month, we are featuring Samantha Hunter, the Alliance's Development Advisor.
What do you do at the Alliance for Aging Research?
I am the Development Advisor for the Alliance, supporting the Vice President of Development in all things fundraising.
How long have you worked at the Alliance?
I joined the Alliance in November 2013, so seven years!
Where are you from, and what brought you to the Washington, DC area?
I was born in New York, but moved to Arlington, Virginia in second grade and have lived in the area ever since except when I was away for college!
What is your favorite project or topic you've worked on while at the Alliance?
My favorite project I've worked on is Heart Valve Disease Day. Seeing that blossom from a proposal to the successful celebration of Heart Valve Disease Awareness Day over the past several years has been truly special.
Do you have a personal connection with any of the health issues/conditions the Alliance works on?
Yes, my paternal grandmother had Alzheimer's disease, so the work we do on dementia has a very personal place in my heart.
What is something you've learned about healthy aging since working at the Alliance that has either changed your view or impacted the way you personally approach aging?
I have learned a lot about medication safety from the work the Alliance has done on over-the-counter medication safe use, storage, and disposal. The knowledge I've gained in this area has definitely informed how I handle medication safety in my home and around my kids!
What is your favorite book?
This Is How It Always Is by Laurie Frankel
What is one thing that not many people know about you?
I play the cello!