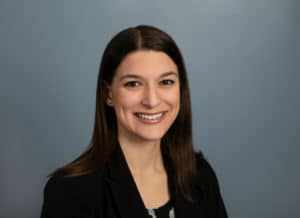 The Alliance for Aging Research is proud to have dedicated staff members supporting the organization in its mission to improve the universal human experience of aging and health. Every month, we'll spotlight one of our staff members here on the blog. This month, we are featuring Sarah DiGiovine, the Alliance's Director of Development.
What do you do at the Alliance for Aging Research?
I serve as the Alliance's Director of Development. In my role I sustain corporate partnerships, provide oversight for corporate sponsorship and grant outreach, and fundraise to fulfill the Alliance's mission.
How long have you worked at the Alliance?
I have worked at the Alliance for 5 years.
Where are you from, and what brought you to the Washington, DC area?
I am originally from the greater Boston area and moved to northern Virginia to attend George Mason University. I quickly fell in love with the DC metro area and decided to plant my roots here. The rest is history!
What is your favorite project or topic you've worked on while at the Alliance?
One of my favorite projects that I've had the pleasure to work on is the Alliance's Senior Patient & Family Caregiver Network, or SP&FCN for short. The SP&FCN brings together older American patients and family caregivers from throughout the country to educate them on how to participate in the research process. Sue Peschin, our President and CEO, and I have met the most wonderful, inspiring individuals through this project. We were able to empower the participants to make decisions about their healthcare that would lead to better patient outcomes, and in turn the participants shared their stories and touched our hearts. Sue and I have stayed in touch with several of our past participants, and whenever I receive a new message from them it makes my day. I highly recommend you read about these amazing individuals here.
Do you have a personal connection with any of the health issues/conditions the Alliance works on?
Yes, I have had a connection with several of the disease areas and conditions that the Alliance has worked on, including dementia and sepsis. I have also been able to share what I've learned from the Alliance's educational campaigns on safe use and storage of over-the-counter drugs and adult vaccination with my grandparents. I've even busted a few vaccination myths for my grandmother and convinced her to get a flu shot! Additionally, I found the Alliance's resources on caregiving extremely useful when I served as a caregiver to my father.
What is something you've learned about healthy aging since working at the Alliance that has either changed your view or impacted the way you personally approach aging?
The advantage of working at the Alliance is that we get to work on projects that cover a variety of health topics and, because of that, I have learned a lot about different diseases and conditions that affects us as we age. I think the biggest takeaway from what I've learned is that aging isn't something that magically strikes after you turn 50, 60, or 70; aging is something that happens to us every day whether we are 80 or 8! I've also learned that aging doesn't look the same for everyone, and two people who are the same age could be having two completely different experiences.
What is your favorite book?
I am a bibliophile so it's hard for me to single out one book as my favorite. My favorite genres are mysteries and thrillers, so I read a lot of Dan Brown, Agatha Christie, Gillian Flynn, and Steve Berry.
What is one thing that not many people know about you?
Nothing – I'm pretty open and honest with my family and friends.