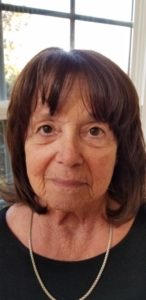 Marlene Klein, a participant of the Alliance's Talk NERDY To Me training, reflects on the importance of Age-Related Macular Degeneration (AMD) Awareness Month.
Hi, my name is Marlene. I have Macular Degeneration. Macular Degeneration is the leading cause of vision loss affecting the central vision of over 10 million people.
I am so happy that February is Age-Related Macular Degeneration (AMD) Awareness Month.
BUT…how can we become aware of something we know nothing about?
That's where I, the Alliance for Aging Research and Talk NERDY To Me training comes into being. Thanks to their program, I am now a patient advocate for this wonderful organization and people who want to become aware.
The Talk NERDY To Me patient advocate program that I participated in was eye opening to me. NERDY stands for "Nurturing Engagement in Research and Development with You." This program gave me the tools to help myself and others with AMD. I learned how to help make changes and improvements for doctors and researchers to understand what my eyes see. I also got in touch with the National Council on Disability to include low vision patients not legally blind.
I hope to help doctors try to see through my eyes what and how I see and have trouble seeing—not like a medical book explaining in black and white.
I want to help researchers develop new and improved treatments, and, possibly, someday find a cure.
Together we ALL will become aware.