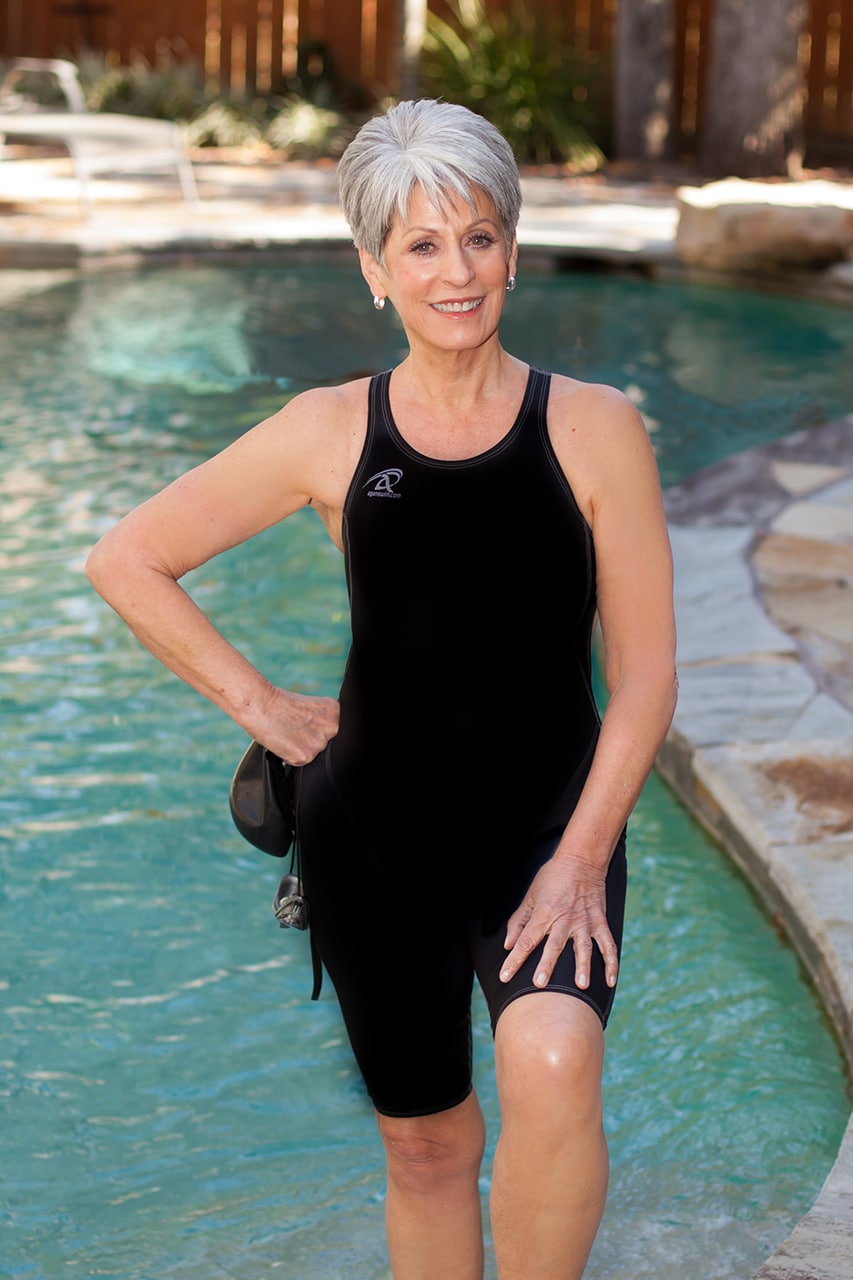 This is our second entry in the Aging in the 21st Century series.
By the looks of it, DeEtte Sauer is a phenomenal success at 75. A new inductee into the Texas Senior Olympics Hall of Fame. A champion swimmer. An active community volunteer. A woman with a loving husband and a close-knit family. She has it all: contentment, love, health, and fulfillment.
For all intents and purposes, this resident of Houston, Texas, has what many of us would consider the ideal retirement life.
However, her life has been anything but easy.
"I was a heavy smoker, drinker, eater, and worker. I did everything wrong you could do," she says.
But it is also from those experiences that she says made her the person who she is today.
"I look back now and see those addictions were a blessing in disguise," she explains. "I know now I have to live my life with discipline and embrace it and enjoy it."
DeEtte says her experiences throughout life led her to what she calls her "bliss point."
"My personal philosophy is that everybody needs to be involved in developing a bliss point for their older years," she explains. "You have to invest in all the different parts: emotional, spiritual, physical, financial, and mental. I feel like I'm living in that bliss point."
That journey to her bliss point took her through a number of epoch moments in her life that both changed her and gave her new direction.
The first occurred in October 1978 when she discovered her faith and for the first time achieved spiritual fulfillment. Her new-found faith helped her overcome her smoking and alcohol addictions.
However, she struggled with a new addiction: food.
"Once I put down those addictions, I took up food. I just started eating like crazy," she recalls. "I was a 100 pounds overweight. I was miserable. I was 45 years old. I thought I was old."
But then came another pivotal moment on October 10, 1986. This was the day she decided enough was enough, and she would pursue a healthy nutritional life. And it's a decision she doesn't regret 30 years later.
"It really has become an exciting adventure," she explains. "I love cooking. So now I take my excitement about cooking and apply it to healthy foods. Our meals are beautiful."
DeEtte says integrating a healthy diet into her life was about two key changes: eliminating certain foods and finding healthy substitutes. For her, it was giving up any processed foods, fried foods, sugar, white pasta, and white bread, strictly sticking to whole foods with high nutritional value.
"My advice to anyone who wants to change their diet is to take the meals that you really enjoy that are not healthy and substitute wholesome ingredients, transforming the meal," she advises. "You do have to give up some things. It takes some discipline, and you have to be willing to work at it."
However, she says, it can be done, and the end result is worth it, as DeEtte can attest.
By the time of another life-changing moment in August of 1999, DeEtte was well on her way to achieving her bliss point. This next event made her realize that no matter what a person's age, they have undiscovered potential within them.
"All of my life I admired athletes, and I loved the Olympics," she says. "But never in my wildest dreams did I think I would become an athlete."
But that is exactly what happened. DeEtte Sauer, non-swimmer, unremarkable athlete, become a champion swimmer in her older adult years.
It all started in August 1999 when she met a woman who was a shot putter in the National Senior Games, which is an athletic competition held every two years for adults over age 50. DeEtte was intrigued by the idea of competition.
So, she decided to take up competitive swimming.
"The first time I tried it, I couldn't get across the pool. I wanted to quit, but I didn't. Then I started to love swimming. I loved learning a skill and technique at a later age. I have developed really good strokes," she says, adding with a laugh, "You can teach an old dog new tricks."
So, she decided to take up competitive swimming and joined a U. S. Masters Swim Team. At her first meet in November 1999, she discovered she actually had a knack for this swimming thing. That talent led her to the National Senior Games, where she has medaled numerous times. She has also already qualified for next year's games in multiple events. And to top it all off, she has just been inducted into the Texas Senior Olympics Hall of Fame.
DeEtte notes that swimming does not just benefit her physically and mentally. It also has given her a sense of community and comradery with her fellow swimmers.
We now find her at 75, living every day in her bliss point, and she wants others to know they can find it too.
"There's a line from a movie that says, 'It's never too late to become what you should have been,' and I'm proof of this. If I were to give advice to another older adult, I would tell them to think carefully about what kind of senior years they want to experience and be willing to invest in what they want those years to be. Have a plan. Instead of life being what happens to you, make it happen yourself. Make living well a priority."
As DeEtte well knows, it isn't always easy. But she also knows that once you achieve that "bliss point," life has the potential to be everything you hoped it would be.