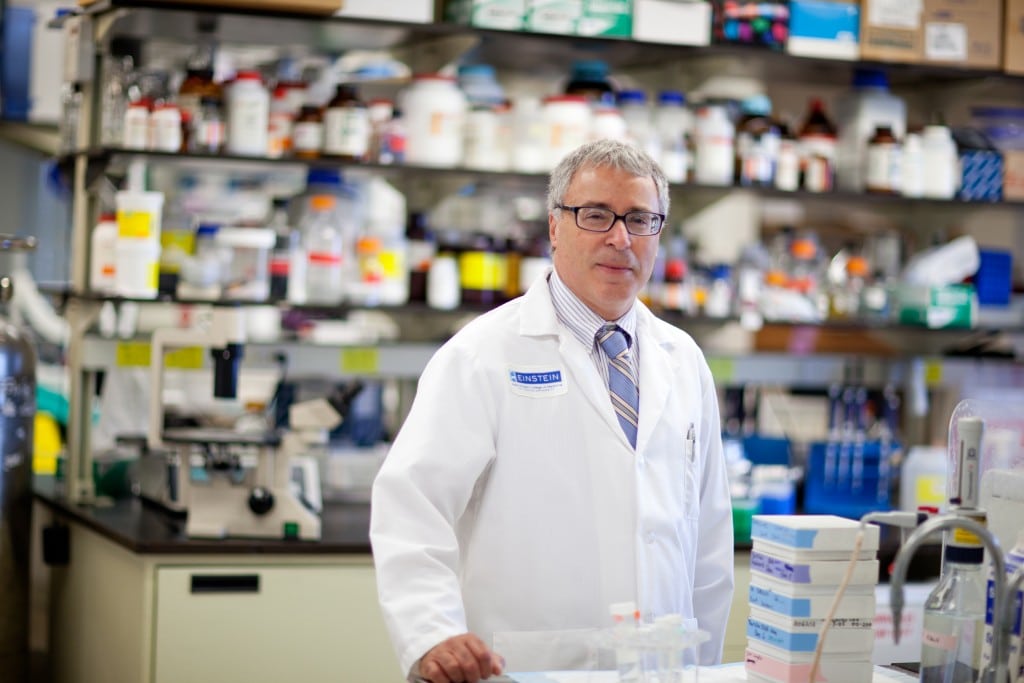 Healthspan Campaign partner the Albert Einstein College of Medicine was recently featured in The Wall Street Journal about a groundbreaking new study called Targeting/Taming Aging With Metformin, or TAME. We had the chance to speak with Nir Barzilai, M.D., director, Institute for Aging Research, Einstein College of Medicine, and, scientific co-director, the American Federation for Aging Research, to learn more about it.
Q: Can you summarize what you've found so far in your research into metformin?
NB: The hypothesis of the TAME study is based upon promising research on metformin conducted by the scientific community. Below is some background on the drug and some of the more relevant findings.
Metformin is an FDA-approved drug in common use in the U.S. since the 1990s. It is the first-line drug of choice for prevention and treatment of type 2 diabetes (T2DM). The effect of metformin on aging has been extensively studied and has been associated with longevity in many rodent models (1-4). Metformin also extends the lifespan of nematodes (5), suggesting an evolutionarily conserved mechanism. A recent high-impact study demonstrated that metformin reduces oxidative stress and inflammation and extends both lifespan and healthspan in a mouse model (6).
If indeed metformin is a drug that can target the aging process, its administration should be associated with less age-related disease in general, rather than the decreased incidence of a single age-related disease. This notion led investigators to further study whether anti-aging effects can be demonstrated in the type 2 diabetes population. Notably, in the United Kingdom Prospective Diabetes Study (UKPDS), metformin, compared with other anti-diabetes drugs, demonstrated a decreased risk of cardiovascular disease (7). This has been suggested in other studies and meta-analyses and remains an active area of research (8-12).
In addition, numerous epidemiologic studies have shown an association of metformin use with a decreased risk of cancer, as well as decreased cancer mortality (13-17). There is also evidence from studies performed both in-vitro and in-vivo of metformin's role in attenuating tumorigenesis (18-24). The mechanisms proposed relate to its effects on reducing insulin levels, improving insulin action, decreasing IGF-1 signaling (central to mammalian longevity), and reducing the senescent process (senolytics) as well as activation of AMP-kinase. In fact, metformin's potential protective effect against cancer has been gaining much attention, with over 100 ongoing studies registered on the ClinicalTrials.gov website.
Finally, a large population-based study evaluated the effect of metformin on five-year survival. The design, population selected and data obtained, will not be detailed here, but is a base for our analysis. Records of 78,000 diabetic patients treated with metformin were compared with records of 78,000 non-diabetic subjects and matched for relevant characteristics, such as age, smoking, cancer history, etc. Similar comparison was performed between 12,000 diabetic patients taking sulphonylurea (SU) drugs and 12,000 matched non-diabetic individuals. Not unexpectedly, SU-treated diabetic patients had ~40 percent greater mortality than their non-diabetic control group. However, mortality in metformin-treated diabetic patients was similar to the matched non-diabetic controls. In fact, among patients in their 70s, mortality was reduced by ~15 percent in metformin-treated diabetic patients compared with non-diabetic controls. These observations suggest that the protective action of metformin may extend beyond effects on specific age-related diseases and provide compelling evidence to support the design and conduct of studies to directly test whether human aging, and its diseases, can be effectively delayed.
Q: What is the TAME project?
NB: We hypothesize that delaying aging is the only effective way to delay age-related diseases and compress morbidity. TAME is a novel study that will recruit elderly subjects and, in a double-blind, placebo-control study, will test if metformin can delay the onset of multi-morbidities including cancer, CVD, T2DM, cognitive decline, and mortality. It is sponsored by the American Federation for Aging Research (AFAR), and I will serve as the PI. There is a wide range of involvement of gerontologists and intervention geriatricians in an executive committee and consensus committee as well as other investigators.
Q: What do you hope to achieve?
NB: The main reason to embark on this study is to convince the Food and Drug Administration (FDA) to approve aging as an indication, and thus a target for future and even better medications.
Without such a determination, the progress the field has made will not be realized because pharmaceutical companies will not develop drugs that have no indication, which is required for reimbursement by insurance companies. Indeed, metformin is a cheap generic drug that has already shown to have protective effects in diabetic patients, so it seems to be a good tool. We are confident that once FDA becomes open to aging as an indication, more and better drugs will be rapidly developed. We believe that there is a great benefit for healthy lifespan, not only to the individual, but also for the society in the form of cost savings, which is often referred to as the longevity dividend.
Q: And to end on a more personal note. You have a number of experts involved in this project, like Dr. S. Jay Olshansky and Dr. Jim Kirkland among others. What do you enjoy most about working with other experts to find answers about why our bodies age?
NB: I was raised on the belief that it is possible to change the world (or part of it). Many have said it before and failed. But it doesn't matter, you start again with a better plan. The difference today is that by creating collaborations, opportunities, and friendships with many others we have more than a village to succeed. My confidence in our success is because the partnership with great scientists is like the egg and bacon analogy. The chicken was involved, the pig was committed, and the commitment of people like Dr. Olshansky and Dr. Kirkland, who also have the leadership abilities, will contribute to bringing this research to fruition. Similar commitment is evolving within the TAME executive committee, Drs. Jill Crandall, Stephen Krichevsky, Mark Espeland, Tamara Harris, Eileen Crimmins, Joe Verghese, Luigi Ferucci, who are all long-term friends and brilliant investigators.
Reference List:
Anisimov, V.N., Berstein, L.M., Egormin, P.A., Piskunova, T.S., Popovich, I.G., Zabezhinski, M.A., Tyndyk, M.L., Yurova, M.V., Kovalenko, I.G., Poroshina, T.E. & Semenchenko, A.V. Metformin slows down aging and extends life span of female SHR mice. Cell Cycle 7, 2769-73 (2008).
Anisimov, V.N., Berstein, L.M., Popovich, I.G., Zabezhinski, M.A., Egormin, P.A., Piskunova, T.S., Semenchenko, A.V., Tyndyk, M.L., Yurova, M.N., Kovalenko, I.G. & Poroshina, T.E. If started early in life, metformin treatment increases life span and postpones tumors in female SHR mice. Aging (Albany NY) 3, 148-57 (2011). PMCID: 3082009.
Smith DL Jr, Elam CF Jr, Mattison JA, Lane MA, Roth GS, Ingram DK, Allison DB. Metformin supplementation and life span in Fischer-344 rats. J Gerontol A Biol Sci Med Sci. 2010 May;65(5):468-74. doi: 10.1093/gerona/glq033. Epub 2010 Mar 19. PMID: 20304770
Anisimov VN, Egormin PA, Piskunova TS, Popovich IG, Tyndyk ML, Yurova MN, Zabezhinski MA, Anikin IV, Karkach AS, Romanyukha AA. Metformin extends life span of HER-2/neu transgenic mice and in combination with melatonin inhibits growth of transplantable tumors in vivo. Cell Cycle. 2010 Jan 1;9(1):188-97. Epub 2010 Jan 22. PMID: 20016287
Cabreiro F, Au C, Leung KY, Vergara-Irigaray N, Cochemé HM, Noori T, Weinkove D, Schuster E, Greene ND, Gems D. Metformin retards aging in C. elegans by altering microbial folate and methionine metabolism. Cell. 2013 Mar 28;153(1):228-39. doi: 10.1016/j.cell.2013.02.035. PMID: 23540700
Martin-Montalvo, A., Mercken, E.M., Mitchell, S.J., Palacios, H.H., Mote, P.L., Scheibye-Knudsen, M., Gomes, A.P., Ward, T.M., Minor, R.K., Blouin, M.J., Schwab, M., Pollak, M., Zhang, Y., Yu, Y., Becker, K.G., Bohr, V.A., Ingram, D.K., Sinclair, D.A., Wolf, N.S., Spindler, S.R., Bernier, M. & de Cabo, R. Metformin improves healthspan and lifespan in mice. Nat Commun 4, 2192 (2013). PMCID: 3736576.
Anfossi G, Russo I, Bonomo K, Trovati M. (UKPDS) The cardiovascular effects of metformin: further reasons to consider an old drug as a cornerstone in the therapy of type 2 diabetes mellitus. Curr Vasc Pharmacol. 2010 May;8(3):327-37. Review. PMID: 19485923
Whittington HJ, Hall AR, McLaughlin CP, Hausenloy DJ, Yellon DM, Mocanu MM. Chronic metformin associated cardioprotection against infarction: not just a glucose lowering phenomenon. Cardiovasc Drugs Ther. 2013 Feb;27(1):5-16. doi: 10.1007/s10557-012-6425-x. PMID: 23192487
Roumie CL, Hung AM, Greevy RA, Grijalva CG, Liu X, Murff HJ, Elasy TA, Griffin MR. Comparative effectiveness of sulfonylurea and metformin monotherapy on cardiovascular events in type 2 diabetes mellitus: a cohort study. Ann Intern Med. 2012 Nov 6;157(9):601-10. doi: 10.7326/0003-4819-157-9-201211060-00003. PMID: 23128859
Lamanna C, Monami M, Marchionni N, Mannucci E. Effect of metformin on cardiovascular events and mortality: a meta-analysis of randomized clinical trials. Diabetes Obes Metab. 2011 Mar;13(3):221-8. doi: 10.1111/j.1463-1326.2010.01349.x. PMID: 21205121
Hong J, Zhang Y, Lai S, Lv A, Su Q, Dong Y, Zhou Z, Tang W, Zhao J, Cui L, Zou D, Wang D, Li H, Liu C, Wu G, Shen J, Zhu D, Wang W, Shen W, Ning G; SPREAD-DIMCAD Investigators. Effects of metformin versus glipizide on cardiovascular outcomes in patients with type 2 diabetes and coronary artery disease. Diabetes Care. 2013 May;36(5):1304-11. doi: 10.2337/dc12-0719. Epub 2012 Dec 10. PMID: 23230096
Johnson JA, Simpson SH, Toth EL, Majumdar SR. Reduced cardiovascular morbidity and mortality associated with metformin use in subjects with Type 2 diabetes. Diabet Med. 2005 Apr;22(4):497-502. PMID: 15787679
Tseng, C.H. Diabetes, metformin use, and colon cancer: a population-based cohort study in Taiwan. Eur J Endocrinol 167, 409-16 (2012).
Libby, G., Donnelly, L.A., Donnan, P.T., Alessi, D.R., Morris, A.D. & Evans, J.M. New users of metformin are at low risk of incident cancer: a cohort study among people with type 2 diabetes. Diabetes Care 32, 1620-5 (2009). PMCID: 2732153.
Landman, G.W., Kleefstra, N., van Hateren, K.J., Groenier, K.H., Gans, R.O. & Bilo, H.J. Metformin associated with lower cancer mortality in type 2 diabetes: ZODIAC-16. Diabetes Care 33, 322-6 (2010). PMCID: 2809274.
Lee, M.S., Hsu, C.C., Wahlqvist, M.L., Tsai, H.N., Chang, Y.H. & Huang, Y.C. Type 2 diabetes increases and metformin reduces total, colorectal, liver and pancreatic cancer incidences in Taiwanese: a representative population prospective cohort study of 800,000 individuals. BMC Cancer 11, 20 (2011). PMCID: 3031263.
Monami, M., Colombi, C., Balzi, D., Dicembrini, I., Giannini, S., Melani, C., Vitale, V., Romano, D., Barchielli, A., Marchionni, N., Rotella, C.M. & Mannucci, E. Metformin and cancer occurrence in insulin-treated type 2 diabetic patients. Diabetes Care 34, 129-31 (2011). PMCID: 3005459.
Quinn, B.J., Dallos, M., Kitagawa, H., Kunnumakkara, A.B., Memmott, R.M., Hollander, M.C., Gills, J.J. & Dennis, P.A. Inhibition of lung tumorigenesis by metformin is associated with decreased plasma igf-I and diminished receptor tyrosine kinase signaling. Cancer Prev Res (Phila) 6, 801-10 (2013). PMCID: 3740378.
Seibel, S.A., Chou, K.H., Capp, E., Spritzer, P.M. & von Eye Corleta, H. Effect of metformin on IGF-1 and IGFBP-1 levels in obese patients with polycystic ovary syndrome. Eur J Obstet Gynecol Reprod Biol 138, 122-4 (2008).
Liu, B., Fan, Z., Edgerton, S.M., Yang, X., Lind, S.E. & Thor, A.D. Potent anti-proliferative effects of metformin on trastuzumab-resistant breast cancer cells via inhibition of erbB2/IGF-1 receptor interactions. Cell Cycle 10, 2959-66 (2011).
Salani, B., Maffioli, S., Hamoudane, M., Parodi, A., Ravera, S., Passalacqua, M., Alama, A., Nhiri, M., Cordera, R. & Maggi, D. Caveolin-1 is essential for metformin inhibitory effect on IGF1 action in non-small-cell lung cancer cells. FASEB J 26, 788-98 (2012).
Tosca, L., Rame, C., Chabrolle, C., Tesseraud, S. & Dupont, J. Metformin decreases IGF1-induced cell proliferation and protein synthesis through AMP-activated protein kinase in cultured bovine granulosa cells. Reproduction 139, 409-18 (2010).
Karnevi, E., Said, K., Andersson, R. & Rosendahl, A.H. Metformin-mediated growth inhibition involves suppression of the IGF-I receptor signalling pathway in human pancreatic cancer cells. BMC Cancer 13, 235 (2013). PMCID: 3661399.
Anisimov, V.N. & Bartke, A. The key role of growth hormone-insulin-IGF-1 signaling in aging and cancer. Crit Rev Oncol Hematol 87, 201-23 (2013).
Bannister CA, Holden SE, Jenkins-Jones S, Morgan CL, Halcox JP, Schernthaner G, Mukherjee J, Currie CJ. Can people with type 2 diabetes live longer than those without? A comparison of mortality in people initiated with metformin or sulphonylurea monotherapy and matched, non-diabetic controls. Diabetes Obes Metab. 2014. PMID: 25041462