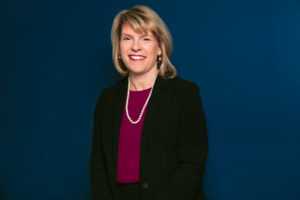 The Alliance for Aging Research is proud to have dedicated staff members supporting the organization in its mission to improve the universal human experience of aging and health. Every month, we'll spotlight one of our staff members here on the blog. This month, we are featuring Sue Peschin, MHS, the Alliance's President and CEO.
What do you do at the Alliance for Aging Research?
I serve as the President and CEO, so I get to do a little of everything. I also get to work with a fantastic team and Board of Directors.
How long have you worked at the Alliance?
It will be eight years for me this month. I started as Chief Operating Officer under Alliance Founder Dan Perry's leadership, and we worked on a three-year succession together.
Where are you from, and what brought you to the Washington, DC area?
I am originally from Pittsburgh, and lived in Boston, Baltimore, and Columbia, MD before moving to DC in 1996. I was a little rabble rouser in elementary school and haven't stopped since. I came to DC after studying health policy in grad school. I worked in gun control for 10 years before focusing on older adult health issues.
What is your favorite project or topic you've worked on while at the Alliance?
I love the Talk NERDY to Me program we do with older adult patients and family caregivers. It crosses several of our clinical areas and put us in direct touch with why we do what we do. The people we meet are tremendous.
I also have a personal connection with the work we do in psychotropic medication use in long-term care. My great-grandmother had dementia and she experienced dementia-related psychosis in her last year of life. It's important for CMS to understand neuropsychiatric symptoms and appropriate use of medication.
Do you have a personal connection with any of the health issues/conditions the Alliance works on?
Too many! On the one hand, I feel incredibly lucky to have known all my grandparents and two of my great grandmothers. But, in addition to dementia, I also saw their health struggles with heart valve disease/heart failure, cardiovascular disease, cancer, Parkinson's disease, end-stage renal disease, and arthritis. I grew up witnessing incredible resilience, and there was always humor. What I do keeps me connected to them.
What is something you've learned about healthy aging since working at the Alliance that has either changed your view or impacted the way you personally approach aging?
Here are a few nuggets I've picked up so far:
What you eat and how much you move really does matter.
Connection to others helps keep your heart and mind in check.
Ask questions and advocate for your loved one's health (and your own)!
Laugh as many times a day as possible.
Be kind. I seriously think this is the best skincare advice out there. Plus, mean people really do suck.
What is your favorite book?
I read Viktor Frankel's Man's Search for Meaning in college, and it's the book that has made the biggest impression in my life.
What is one thing that not many people know about you?
I have a colossal bad sense of direction. Never ask me for directions. I will try to give them to you to be helpful, and you will regret it.