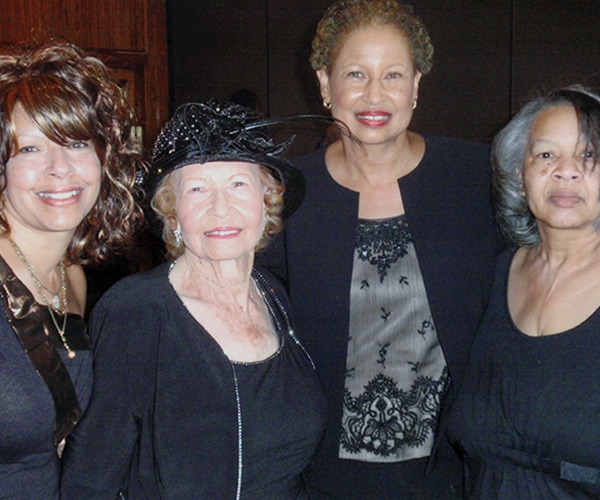 This is the next entry in our Lives Changed series.
The worst thing about Alzheimer's disease is what it takes from you. For Jeanie Harris and Sharon R. Melancon, it took their 91-year-old mom, Peggy, and turned her into a different person.
"When mom's Alzheimer's hit, I could see the change in her eyes. My mother was gone. I had a new mother," recalls Jeanie, 67.
Jeanie and Sharon lost their mom earlier this year, five years after they learned of her diagnosis. While their story is common for those who take care of a loved one with Alzheimer's—a story of loss, sadness, frustration—there's also the other side: the love, the connection, the celebration of a life that touched three generations of Californians.
Peggy came to Los Angeles in the 1940s from Arkansas. There she met her husband, a native himself of Louisiana. They settled into the southside of Los Angeles, producing four children, Sharon, Jeanie, Vivian, and Steve, who is now deceased.
Throughout her life, Peggy was known as someone who cared for others, a trait she exhibited up to and after she received her Alzheimer's diagnosis at 90.
When the close-knit family learned of the diagnosis, there was shock and then sadness. This was in fact the second time the family had been affected by Alzheimer's disease. An older cousin of Jeanie and Sharon, known as Aunt Lorraine, also had the disease, passing away a year before Peggy.
So, while the family was familiar with the disease, it still didn't make it any easier.
"It was very difficult and just unbelievable," says Sharon, 62. "We as a family started our grieving process."
Once the family had adjusted to the shock of the diagnosis, the next step was adapting to a life with their "new mom," especially since her transition to Alzheimer's was so rapid.
"You could see her struggling to try to remember things," says Jeanie. "You just never knew how she was going to react. We had to hide things. It was not an easy adjustment for a person who had been independent her whole life."
The family also realized a plan for care was needed, and this is where they came together like a well-oiled machine.
The first step was to ensure that Peggy would never be alone. Sharon already lived next door to Peggy. Jeanie would eventually move in with her mom. Their experiences with Aunt Lorraine gave them valuable knowledge about what it was like to care for a loved one with Alzheimer's—even as they knew each person's Alzheimer's affects them in different ways.
It wasn't easy, both Jeanie and Sharon admit, as they dealt with watching their mom struggle with the disease. "We cried a lot. You miss the things you used to do together. It was hard," said Sharon.
But it also made them appreciate the deep love of their family. Peggy's granddaughters Kym and Vivian also helped provide round-the-clock care.
Although the family had lost so much to Alzheimer's disease, they also had each other, and that made a world of difference. It also gave Jeanie and Sharon some food for thought.
"We are working together as a family, and it was hard," says Sharon. "We thought, 'How do people who do not have anyone to help them do this?'"
That thought soon led to the sisters starting the nonprofit Actively Caring Through Sharing, Inc. – A Support Group for Women and Men Caregivers (ACTS) in February 2014.
"We had learned so much about how everything works with Alzheimer's care and treatment and how important education is," says Sharon. "So we came up with this support group."
The mission of ACTS is "providing encouragement, educational resources, support, and a safe place for caregivers to share their true feelings."
"We want to show them that they are not alone. Our main focus is to help people get out whatever's on their heart and mind, whether it is to share their heartaches or get feedback," says Sharon. "It helps to unload their burdens. It is amazing to see their transformation from meeting to meeting."
The group quickly became a valuable hub for both women and men caregivers in the southern Los Angeles area. The group meets once a month. ACTS also hosts various speakers throughout the year, who give insights on Alzheimer's-related topics, and offers free educational resources (such as the Alliance's own pocket films on Alzheimer's disease) for people to use.
Jeanie and Sharon both hope this group will help ease the burden of those taking care of their loved ones with this condition.
"Until they find a cure, I am just hopeful more support groups for caregivers will come about," says Sharon. "It is an under-represented group: the caregivers."
Jeanie, Sharon, and the rest of their family serve as an inspiring example of how, despite the impact the disease has on a family, love and caring can make a huge difference. And caring is what they'll remember the most about Mother Peggy.
"To the end, she was caring for others. That was at her core," says Sharon. "With Alzheimer's disease, whatever a person is strongest in, that is the last to go. She always cared for all of us."
To learn more about ACTS, please go to: https://actscsg.org/.