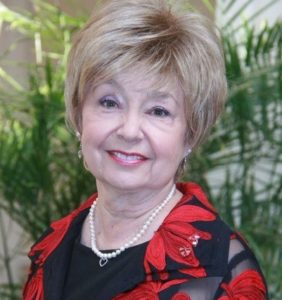 The Heart Valve Disease Awareness Day Fifth Anniversary Celebration on February 22 will celebrate a heart valve patient and visionary, a leading cardiologist and champion of health equity, a dedicated partner, a heart valve institute that is leading the charge in innovation, and all of the partners and advocates that have helped the Heart Valve Disease Awareness Day Campaign reach hundreds of millions of people over the past five years. Get to know Donnette Smith, the Heart Valve Visionary Award Winner:
Would you share your experience with heart valve disease?
My journey with heart valve disease began at birth. I was misdiagnosed with asthma and when I experienced shortness of breath my parents just assumed it was the asthma. At age 18 I was going through a physical for a job at NASA when the doctor asked me if I knew I had a heart murmur. I was terrified. My parents were shocked and got me to a cardiologist right away. When I was in my early thirties, I was finally diagnosed with a bicuspid aortic valve, aortic stenosis, and an enlarged heart. I had my first open-heart surgery on June 12, 1988, and received a homograph. On Easter Sunday in 1993, I experienced incredible pain in my chest and my cardiologist discovered I had a large aortic aneurysm in my ascending aorta and my valve was leaking. The aneurysm was repaired, and I received a St. Jude mechanical valve. In November 1996, I was diagnosed with breast cancer and underwent radiation treatments. In March 2010 I started experiencing symptoms and was sent to Vanderbilt in Nashville where I received an Apical Aortic Shunt with a porcine valve in it. The mechanical valve was left in place and the porcine valve bypassed it, giving me better blood flow. In November 2020 I had what was initially diagnosed as a heart attack. I was extremely short of breath and had difficulty just walking across the floor. My cardiologist knew what was happening and immediately started preparing me for a Transcatheter Aortic Valve Replacement (TAVR). Everything went as planned and I woke up feeling like a new person and went home the next day! My heart journey is long, but I have met some amazing people along the way.
What made you want to become a patient advocate?
On my journey with valve disease, I encountered patients who had no idea about their diagnosis and were afraid to ask questions. I wanted to encourage them to use their voices to get the information they were seeking and to advocate for themselves. If we, as patients, don't speak up we will never see the changes in healthcare that we want and need. I want to be the loudest voice out there because I want to be the voice for those who won't or can't speak for themselves. It took some time for me to realize I could speak up and I learned that people listened. When you can say I have been there, then you have instant credibility.
In addition to being a patient advocate, you are the Heart Valve Voice US Board President. How did you first become involved in the organization?
I met some of the Heart Valve Voice US staff at a panel we were serving on a few years ago. I have been involved with the heart community for many years and this was the first group that focused on heart valve disease, which is a topic near and dear to my heart. I wanted to be a part of focusing on this disease and raising awareness.
February 22 is Heart Valve Disease Awareness Day. How do you think partners and advocates can best help raise awareness on the day and throughout the year?
I am extremely happy there is a day dedicated to heart valve disease; however, this disease is one that the general public is seldom aware of until they are diagnosed, so we need to do more to raise awareness. I volunteer in the cath lab at our local hospital and I see so many patients and family members who have no idea what a heart valve disease diagnosis really means!
Why do you think awareness of heart valve disease is low?
I think heart valve disease awareness is so low because it isn't really talked about like heart attack, stroke, and even atrial fibrillation. It wasn't long ago that few people knew about atrial fibrillation, and now since it has received so much attention, people immediately know what it is and probably know someone who has it. Unlike a heart attack, valve disease often has vague symptoms and can be ignored. We have to educate people on valve disease just like we did on heart attack and high cholesterol.
You are the recipient of the Heart Valve Visionary Award. How does it feel to receive this award?
I am deeply moved and humbled to be named as the recipient of the Heart Valve Visionary Award! I have been so involved in the heart community for so many years and care so deeply about the heart patients I have encountered, it just makes me want to do more! I am so very grateful for this award! Thank you!
How has the COVID-19 pandemic impacted heart valve disease patients?
COVID-19 has affected heart valve disease patients just as it has in all areas of healthcare.
Patients have been reluctant to keep their appointments with their healthcare providers for fear of being exposed to the virus. We all know that dental care is extremely important for a heart valve patient and many dental offices were closed and dental issues had to be postponed. Just the extreme stress from all the closings and quarantines, lost jobs which resulted in loss of health insurance, shortages of essential supplies—how could it not affect the heart!
How do you keep your heart healthy?
Well, I didn't do such a great job during 2020, but I think some of that was out of my control. I have always been very active, and I walk whenever possible. I climb stairs, park in the back of the parking lot, and eat a healthy diet. I keep my appointments with my heart team, and I have the best cardiologist in the world!
What is one thing that not many people know about you?
I am pretty much an open book but the one thing not many people know about me is that I drove a NASCAR race car at the Talladega Motor Speedway! I drove six laps at a speed of 167.5 MPH, and I loved it! Checked off the #1 item on my bucket list!!