Talk NERDY (Nurturing Engagement in Research and Development with You) was highlighted in multiple ways at the Patient-Centered Outcomes Research Institute's (PCORI) Annual Meeting held October 4 and 5, 2023, in Washington, D.C. Beth Mathews-Bradshaw, Vice President of Patient Engagement and Research, represented the Alliance.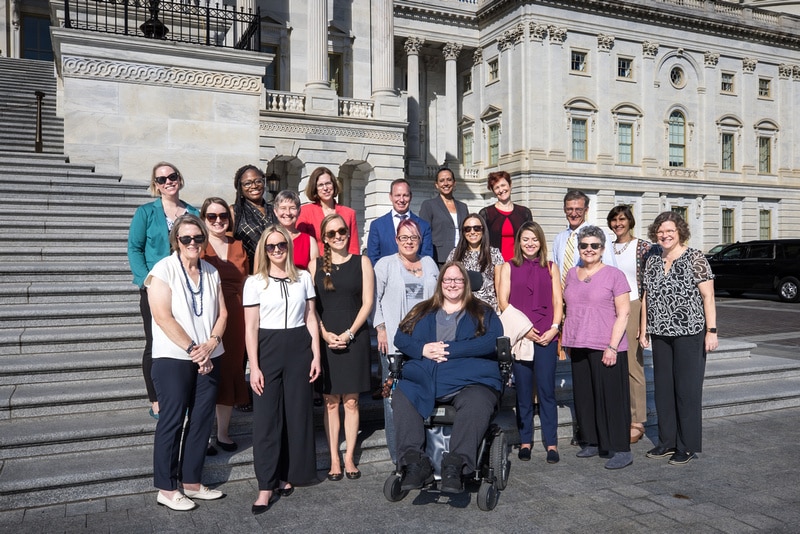 Mathews-Bradshaw participated in the first ever PCORI Science Fair on Capitol Hill talking to Hill staffers about Talk NERDY. PCORI estimates there were 50 to 60 staffers and health policy professionals that came by to talk about the 10 highlighted projects. Projects were pre-selected by staffers who were given a list of all PCORI funded projects and then indicated which they were interested in hearing about.
"We had a very bipartisan group of attendees, and we had many who came over from the Senate," Mathews-Bradshaw said. "PCORI heard from many attendees how impressed they were with the content and all the projects, and how beneficial this format was, so from their perspective it was a huge success in communicating the substance and importance of PCORI-funded research. Talk NERDY was excited to be a part of that."
Throughout the day on Wednesday and Thursday, Mathews-Bradshaw had the opportunity to discuss Talk NERDY with PCORI staff and other PCORI meeting attendees, including funded researchers and other advocacy organizations.
"Everyone was very impressed with the breadth and depth of our training," said Mathews-Bradshaw.
In addition, Talk NERDY had a poster presentation on Wednesday and participated in a panel on Thursday afternoon: Addressing the Needs of Older Adults: Highlights from PCORI's Funding Initiatives presenting Talk NERDY. The session also included the introduction of a new PCORI Aging Framework and the audience and panelists commented on the domains. Information on the session, including a list of speakers and resources, and a video of the session is available on the PCORI website.
Mathews-Bradshaw reports that there were many comments throughout the three days from PCORI staff, meeting attendees, and Hill Staff that "Talk NERDY" was the best program name of the entire meeting.