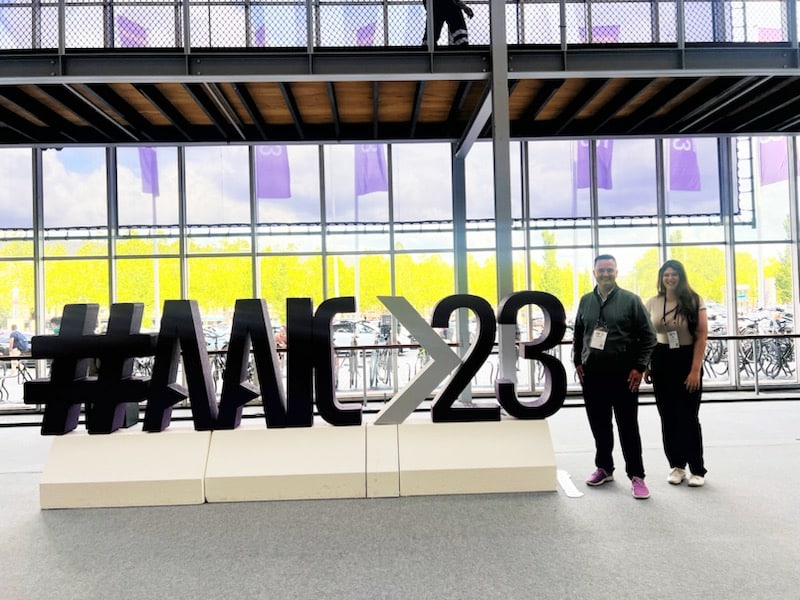 Our Policy Team — Michael Ward, Vice President of Public Policy and Government Affairs, and Adina Lasser, Public Policy Manager — represented the Alliance in Amsterdam last week at the Alzheimer's Association International Conference (AAIC). AAIC is an event dedicated to advancing research and treatment for Alzheimer's disease. An estimated 7,000 attendees participated in this year's AAIC conference.
Among the highlights of the conference was the phase III results from the clinical trials of donanemab that showed a slowing of the progression of Alzheimer's disease in trial participants. These promising findings come on the heels of the FDA providing a traditional approval to leqembi, the first such approval for a therapeutic to slow disease progression, on July 6. Lasser said it was encouraging to see that the data reinforced the science that amyloid clearing has a significant clinical benefit in slowing down or halting the progression of the disease.
Beyond the scientific breakthroughs, the duo had the opportunity to connect with patient groups and other advocacy partners, engage in in-depth discussions about the importance of clinical outcomes from the perspective of patients, and strategize with other attendees on methods to ensure that those diagnosed with Alzheimer's — including Medicare beneficiaries — can benefit from the latest medical advancements without financial barriers.
To keep abreast of the Alliance's work in the rapidly evolving Alzheimer's space, visit our news section.