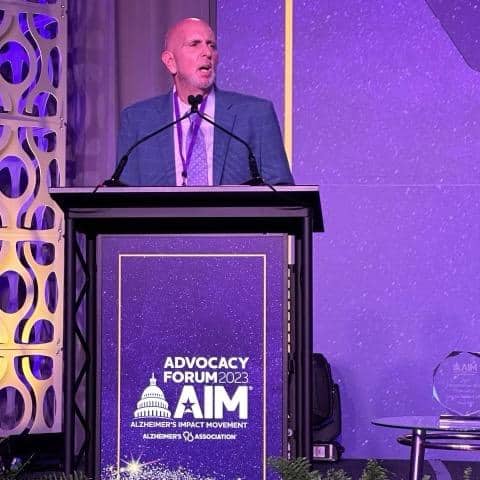 Alliance Board Member Jay Reinstein was recently appointed to serve as Vice Chair of the Lived Experience Advisory Panel (LEAP), a team developed by the United Kingdom's Alzheimer's Society.
The distinguished panel of 12 from across the globe includes people living with dementia, carers, and former carers who will help innovators co-design novel technologies in the field of dementia care. They will review innovators' designs, ideas, and give insights into how technologies could support and enable independent living for a person with a diagnosis of dementia.
Reinstein, a fierce advocate for Alzheimer's awareness and access to treatment, is the former assistant city manager for the city of Fayetteville, NC, and was diagnosed with Alzheimer's in 2019. He was recognized in March by the Alzheimer's Association with the 2023 Alzheimer's Impact Movement (AIM Advocate of the Year Award for his work at the North Carolina state capitol and in Washington, DC.
Learn more about Reinstein's story in his own words in a recent This is Growing Old podcast episode.