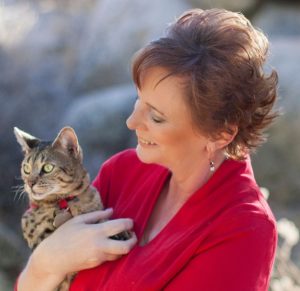 Debbe McCall is a cardiovascular patient researcher, advocate, and speaker. She is also a previous participant in the Alliance for Aging Research's Senior Patient and Family Caregiver Network. In honor of October being Patient-Centered Care Awareness month, read our interview with Debbe below on her experience as a patient advocate.
October is Patient-Centered Care Awareness Month. Why do you believe it is important for patients to be involved in patient-centered outcomes research?
Without our input, researchers will continue to look at the deep science questions and not the quality of life questions. While the science is needed for long-term progress and improvement in disease, quality of life questions help us today. Unless you live with the disease as a patient or care partner, these questions are unknown to a clinician or researcher. We can also help researchers with methodology so it isn't as onerous for participants and, ideally, improve inclusion and exclusion criteria with greater enrollment. We can explain the odd or missing data points because we live with this disease. It's a good reminder that patients and care partners have children, grandchildren, parents, spouses, jobs, and lives to manage along with our disease and treatment. When a study is concluded, we can also help translate the results into our language to share on social media, press releases, and our communities. As a bonus, we patients learn the process of research and the time involved in getting a grant written, approved, funded, and completed.
Do you have any tips for how patients can best advocate for themselves?
Document, learn, teach, and adapt. Keep a diary or log of symptoms, daily vital signs (blood pressure, pulse, oxygen saturation, etc.) along with sleep, exercise, food, drink, etc. It's important to know what is *your* normal from day-to-day over time. The textbooks say a normal pulse is 60-100 beats per minute. What range is yours?
Learn about your disease. What are the guidelines, treatment options, ebb and flow of your disease? Do it at your pace. Your clinician didn't learn all this in a day or month. Neither will you.
When you're comfortable, share what you've learned with other patients, friends, and family that are willing to learn, and your clinician. An educated, calm patient can be a partner or colleague with their clinician over the long-term instead of "doing what you're told" and "learning to live with it."
If your clinician isn't hearing you or taking your quality of life priorities into consideration, change! Don't fight another uphill battle to get a clinician to work with you when they don't want to. The same goes for you. Remember this is a partnership and both of you need to be committed to it.
Can you talk more about your journey from a patient to a patient advocate?
I was a patient advocate before I was a patient. I grew up going to doctor's appointments with family members. I've been in various roles within healthcare for decades. Once I got a handle on my AFib symptoms, diagnosis, and treatment options, I pushed back on the original cardiologist who blew it off as "menopause or anxiety" and started to interview electrophysiologists. Yes, it was a lot of driving. Yes, it was time consuming. But I have *one* heart and it was my responsibility to take care of it and me the best I could.
You are the FDA Patient Representative for the Cardiovascular Drug and Device Advisory Committees. What does this role entail and why did you get involved?
I was nominated by Mellanie True Hills, CEO of StopAfib.org, to be a patient representative. The FDA had a background process and training. I was still fuzzy on the whole thing until I was assigned my first Advisory Committee (AdComm). When a drug, device, or biologic has passed all three phases of trials, it goes before an AdComm of experts in that disease—doctors, pharmacists, statisticians, etc. The FDA always includes a patient representative, a community representative, and an industry representative as well. We are given a lot of study data to read before the AdComm. It's kind of like jury duty. We have confidential information that we cannot share with *anyone.* There are presentations, discussions and, finally, a vote on whether to recommend approval to the FDA. My vote carries the same weight as everyone else on the AdComm. As a patient representative, I vote knowing that I am speaking for the AFib community as a whole, not myself. And the final question is, does the benefit of this drug/device/biologic outweigh the risks for the general AFib population?
You are also the Patient Principal Investigator for several studies. What does this role entail?
Being a Patient Principal Investigator or Lead Patient on a grant is the next step in patient-centered research. We are often asked to be patient experts, Key Opinion Leaders, or specialists on a grant for development of the study question, methodology, or dissemination. Being a Patient Principal Investigator means you are a leader in the process from start to finish. This can be a commitment of several years. It's important to ask up front: what is the length of time you want me involved in this project? What is the weekly or monthly time commitment? Will this be primarily via email and conference calls or will it also involve some travel, and will those expenses be covered? And we have to ask, "how much will I be paid?" This is a tricky question. Some Patient Principal Investigator prefer not to be paid. It's my belief that patient input is devalued when it's free and we should be paid for our experience as patients or care partners, time commitment to the specific project, and our expertise in previous studies. How much do you value the free samples at Costco? To be truly patient-centered, I believe patients should be paid, just as researchers, medical librarians, clinicians, statisticians, etc. that are listed on the grant AND we should have input into the final manuscripts with co-author credit. Let's face it, unless they are studying mitochondrial DNA, without patients, they don't have a research question.
One thing to keep in mind, not all researchers are comfortable working with patients as colleagues on a study. It's new for them, too, so patience—pun intended—is needed for all of us. Another hurdle for me was statistics. It is *not* my forte. Not to fret. That's why there are several statisticians on every grant. You are the patient expert. They are the numbers experts. It all boils down to, does the benefit outweigh the risk for my general patient population?
As one of the moderators for the Atrial Fibrillation Support Forum on Facebook, you see first-hand what patients are going through. Why do you believe an online support group like this is so important?
Clinicians do not have time to answer all our questions, nor do they speak our language. Plus, patients understand the nuances of other patients. With an online group, there is always someone online to help and talk to. In my group, we base everything on the current science—guidelines, treatments, long-term outcomes, side effects, success rates, etc. This also helps us overcome the Dr. Google mentality some clinicians have about online groups. My admin team and I have different areas of expertise— emergency medical services, dental, women's health, cardiac, trauma, etc., and we all have AFib at various stages. If you think it is hard to be a patient, it can be harder to be a volunteer admin. Like a clinician, we usually see members on their worst day over and over and over again. It's critical that my team takes time off to be with their families, get away from the day-to-day shepherding of a group, and rest.
What is the one area that most patients struggle with that is missed by clinicians and researchers?
The emotional impact of diagnosis and long-term treatment. In AFib, anxiety, depression, and panic attacks are common. And it's a chicken-or-the-egg discussion. When an AFib patient asks for help with anxiety, the primary care physician will say "I don't know what works with your disease and medications." Fair enough, it's not their specialty. When we ask the cardiologist, they will say "not my specialty." And the cardiac electrophysiologist will usually say, "ask your primary care physician who has known you longer." This issue gets turfed all too often and is something I bring up when I speak to clinicians, researchers, and industry. Psychiatrists can certainly prescribe for us, but have you ever tried to get into see one? So who can you ask for suggestions?
Which specialist is the most under-utilized in most disease spaces?
Your handy-dandy pharmacist! What over-the-counter cold medicine won't trigger AFib? Ask your pharmacist. Is this a side effect or interaction? Ask your pharmacist. I need help with panic attacks. What medication can I suggest to my primary care physician? Ask your pharmacist. They go to school for 9+ years to become Doctors of Pharmacy. Drugs, supplements, and over-the-counter medications are their specialty. Plus, they have better hours than any clinician. Be kind. Keep it short and not during their busiest times. If you have a 24-hour pharmacy near you, you've hit the jackpot! And remember, hospitals have pharmacists, too.